Advertising is smart and very influential. It changes your opinions about things and products too & forces you to buy the same.
Over time, the things that are propagated through these advertisements become relative truths among people, because there is no one to challenge the veracity of these "truths".
Some of these "useful" products are listed below. People still use them every day, thinking that they are beneficial. In some cases, they are, but most of the time they really aren't.
Read on.
1. Vitamins pills
Most of the vitamins you take are water soluble. That means your body has no way of storing it in your body inside fat cells. As soon as the body absorbs what it needs, most of the vitamin is passed out in the urine.
As for the fat soluble kind, there have been cases where regular consumption of fat soluble has led to storage of vitamins to level where it has become toxic for the body.
What can you do?
Eat a regular, healthy diet consisting of fruits and veggies and you should be OK.
2. Whole wheat bread
Most of the "whole wheat" bread in the markets available today are made from the same refined flour that is used to make white bread. The brown color comes from the caramel and malt added. Caramel and malt are basically sugars and hence you are not better off without these "brown bread".
The best commercial brown bread in the market use at the most 22% whole wheat flour.
What can you do?
Reputed local bakeries produce better quality whole wheat bread than most commercial ones. Buy your bread from them.
3. Premium petrol
The premium unleaded petrol you buy by shelling out extra money because it promises to give you more mileage and better engine performance and cleans your engine is largely bullshit.
Unless you own a Ferrari or a Hayabusa, premium unleaded petrol is not giving you any performance upgrades for your regular bike or car.
What can you do?
Buy regular petrol until you buy a Ferrari. Until then, regular petrol works fine.
4. Loofahs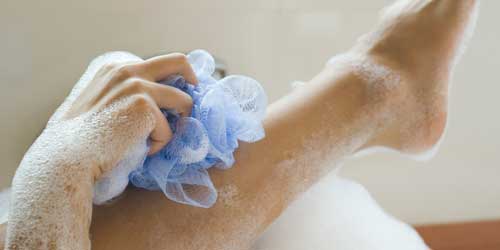 Loofahs are extremely unhygienic, even when you spend 10 minutes after you took a shower washing them. We generally use loofahs to get the grit off our skin. Turns out, all of that grit and dirt doesn't come off and stays in it after you leave the bath.
It starts growing and multiplying in there until it becomes unhealthy. You are basically rubbing yesterday's bacteria all over your skin today.
What can you do?
If you insist on using it, you can always soap it and then wash it and leave it to hang dry in the sun. Or bleach it.
5. Anything low-fat
Fat is what gives food the creamy texture, the flavor you love so much. Take the fat out and you are left with food that doesn't really taste that good. The food manufacturers know this and try to compensate for this flavor loss by adding more sugar.
More sugar in low-fat food is very very bad for you. You end up eating much more sugar than you need.
Also, research shows that people tend to overeat low-fat food because they are "low" in fat and hence guilt free.
What can you do?
Eat regular products in moderation.
6. Health drinks/ sports drinks
The "best" sports drinks out there claiming to rehydrate you with the necessary minerals and electrolytes contain up to 150 calories per bottle. That is equivalent to 10 spoons of sugar.
And they have copious amounts of sodium too – which actually increases your thirst – making you drink more of it.
Unless and until you are a top grade marathon runner, water is probably your best friend.
What can you do?
You can mix regular kitchen supplies like water, salt, sugar, and lemon and get a good hydration drink if you are really afraid of fainting because of dehydration.
7. Paper bags
Turns out, producing paper bags takes more resources like water and energy than producing plastic bags. Producing paper bags also leads to more pollution than producing plastic bags.
Another fun fact – Paper bags are less recyclable than plastic bags.
So basically, paper bags are useless and not exactly environmental friendly as we thought them to be.
What can you do?
Cloth bags. Reuse them and don't take plastic or paper bags ever.
8. Stretch mark creams
Stretch mark creams are basically useless. They have absolutely no effect on the stretch marks. They may, however, help the stretch mark fade. This is because of the presence of vitamin A in it. But while pregnant, excess vitamin A has been linked to abnormalities in the pregnancy.
What can you do?
Massage the places with regular oil and wait for it. Most of them will disappear with time.
9. Jewelry and precious gems
Precious gems are sold with a lot of markup – typically up to 100-400%. That means you are basically paying 4 times its actual cost. The problem here is that gems cannot be sold back to make profit. Gem prices are ridiculously volatile, and you will mostly be in loss if you think precious gems are a good investment.
Ditto for jewelry.
What can you do?
Buy it for ornamental reasons, and not for investments.
10. Compact digital cameras
The 15 MP camera on your smartphone is better than the slim digital camera you just bought. The quality of the pictures taken are basically the same and you can even edit most of your pictures on your phone itself.
What can you do?
Buy a DSLR. That's the next upgrade from your smartphone camera.
There. Now you know.
Think twice before buying them again.
Be smart, buy smart.